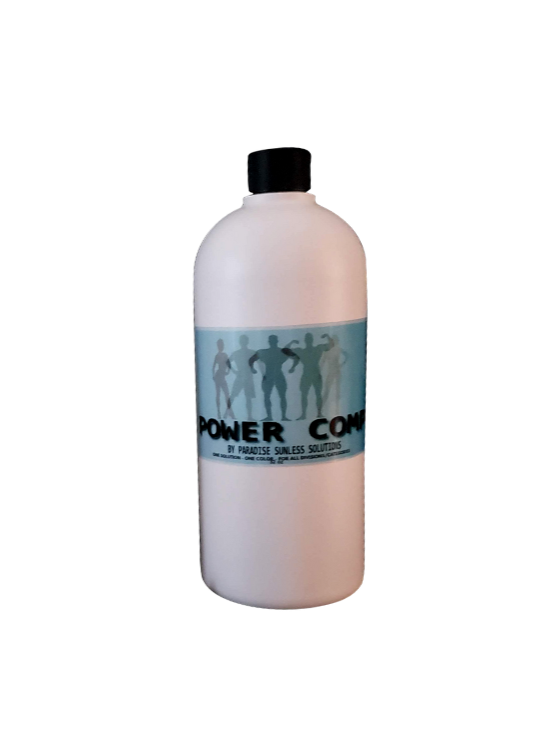 Power Comp Competition Solution 32 oz
SKU 00032
Product Details
Power Comp is designed to give the competitor a deep dark brown tan that the judges are looking for. This solution really brings out the muscle definition to make you stand out on stage and under the lighting. It is a non-sticky, non-smelly, fast drying solution designed for all skin types and has a blend of organic and natural ingredients to deliver an amazing stage tan while hydrating and moisturizing your skin.

While the bronzers wash away after your competition, you will be left with a natural looking beach tan. Power Comp will last between 7 to 10 days and will fade away evenly.
Power Comp is the first solution to go above and beyond turning even the fairest skin to a deep dark brown color. Whatever category of the competition you are competing it, this color will win you and the judges over! Power Comp was created by athletes and is used by fitness competitors across the world. It doesn't wipe off in the heat of the competition and best of all it does not smell when you apply it on!

* No Toxic Chemicals

* No Hidden Chemicals
* Contains 10% DHA
* Dark Brown Bronzers
* No need for a top coat, one solution does it all.

* Like most sunless solutions, most of the bronzer washes off after competition looking like a natural tan that lasts for 7-10 Days
* Antioxidants to help moisturize and maintain healthy skin
One 32 oz tans 8-16 people. One 1/2 gallon tans 15-20 people. One gallon tans 30-35 people

* One Solution, One Color, For All Divisions/Categories *
Save this product for later